Posts for: January, 2019
By Murphy Dental Group
January 09, 2019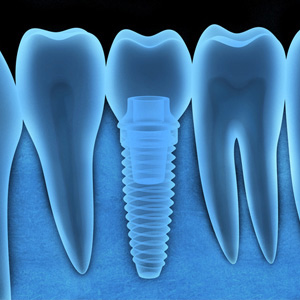 While many people still consider dental implants the "new kids on the block" in dental restoration, they're now in their fourth decade of use. And since their inception implant technology has continued to improve and revolutionize how we replace missing teeth.
Implants are a different "species" compared to other restoration methods. To be precise, an implant is a tooth root replacement—usually a titanium metal post imbedded directly into the jaw bone. Titanium is not only a biocompatible metal, but bone cells naturally grow on its surface to create a strong and durable hold. It's this secure hold that's most responsible for implants' high long-term success rate.
But we should also credit some of this success to the steady stream of advances over the years in implant construction and supporting technologies. For one thing, we're now more accurate and precise with implant placement thanks to advances in computer tomography (CT) and cone beam CT (CBCT) scanning.
These digital processes merge a series of images taken by a special camera to form a three-dimensional model of the jaw. We can manipulate this model on a computer monitor to view it from different vantage points. It can help us locate and avoid anatomical structures like nerves and sinuses when determining where to place a future implant. CT and CBCT are especially useful when there's a concern about adequate available bone, a necessity for stable implants.
Technology has also improved how we create surgical guides, often used during implant surgery to obtain the most accurate results. Surgical guides are custom-made devices that fit over the teeth with the drilling locations for the implants marked on them. Recent advances in 3-D printing have made these guides even more accurate so that they fit more securely in the mouth. This greater stability increases their accuracy during the drilling sequence during surgery.
These and other advances are helping ensure every implant is a success story. The end result is both a functional restoration and a beautiful smile.
If you would like more information on dental implants, please contact us or schedule an appointment for a consultation. You can also learn more about this topic by reading the Dear Doctor magazine article "How Technology Aids Dental Implant Therapy."
By Murphy Dental Group
January 04, 2019
How your family dentists in Milton, Massachusetts can keep your family's smiles healthy and beautiful
There are a lot of benefits to having one dentist treat your entire family including saving you time, money, and stress. When your entire household sees the same family dentist for all their dental needs, you will already know who is taking care of your smile, and you will be familiar with your surroundings. The dentists at Murphy Dental Group in Milton, Massachusetts Dr. John Murphy and Dr. Patrick Murphy can help you and your family enjoy a lifetime of beautiful, healthy smiles.
Time-Saving
One great benefit of having a family dentist is the time you will save; the dental practitioners at Murphy Dental Group are able to see multiple family members on the same day, meaning that you won't lose time from work and you can get on with your busy life. A family dentist can shield you from taking multiple trips to the office, saving you both time and money.
Budget Friendly
Because your dentist can help you plan out needed dental services for yourself and members of your family, you can budget your finances far in advance. Seeing your family dentist regularly can also save money because your dentist can treat dental issues while they are small and inexpensive, instead of letting the issues become large, painful dental problems.
Reliable in Case of Emergency
A family dentist can reduce your stress during a dental emergency as you will have a go-to figure for the entire household. You won't have to go searching for the services you need, you will have immediate access to care and be familiar with the office environment and location.
Perfect for All Ages
Your family dentist is an expert at providing care for multiple family members. Whether you have an infant who needs a first dental visit, a young child who needs dental sealants, or an adult who needs a crown or a root canal, a family dentist can do it all!
Call Today!
Find a family dentist today and simplify your life! For more information about dental services for you and your family, call (617) 696-3900 today for the dentists at Murphy Dental Group in Milton, Massachusetts Dr. John Murphy and Dr. Patrick Murphy.