Posts for: November, 2018
By Murphy Dental Group
November 20, 2018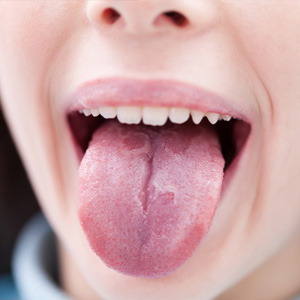 If you've ever been alarmed to find oddly-shaped red patches on your tongue, you can relax for the most part. Most likely, you're part of a small fraction of the population with a condition known as geographic tongue.
The name comes from the irregular shape of the patches that seem to resemble land formations on a map. Its medical name is benign migratory glossitis, which actually describes a lot about the condition. The patches are actually areas of inflammation on the tongue ("glossus" – tongue; "itis" – swelling) that appear to move around or migrate. They're actually made up of areas where the tiny bumps (papillae) you normally feel have disappeared: the patches feel flat and smooth compared to the rest of the tongue.
We're not sure why geographic tongue occurs. It often runs in families and seems to occur mostly in middle-aged adults, particularly women and non-smokers. It's believed to have a number of triggers like emotional stress, hormonal disturbances or vitamin or mineral deficiencies. There may also be a link between it and the skin condition psoriasis. Under a microscope the red patchiness of both appears to be very similar in pattern; the two conditions often appear together.
The bad news is we can't cure geographic tongue. But the good news is the condition is benign, meaning it's not cancerous; it's also not contagious. It poses no real health threat, although outbreaks can be uncomfortable causing your tongue to feel a little sensitive to the touch with a burning or stinging sensation. Some people may also experience numbness.
Although we can't make geographic tongue go away permanently, you should come by for an examination to confirm that is the correct diagnosis. Once we know for sure that you do have migratory glossitis, we can effectively manage discomfort when it flares up. You should limit your intake of foods with high acidity like tomatoes or citrus fruits, as well as astringents like alcohol or certain mouthrinses. We can also prescribe anesthetic mouthrinses, antihistamines or steroid ointments if the discomfort becomes more bothersome.
It may look strange, but geographic tongue is harmless. With the right care it can be nothing more than a minor annoyance.
If you would like more information on benign migratory glossitis, please contact us or schedule an appointment for a consultation. You can also learn more about this topic by reading the Dear Doctor magazine article "Geographic Tongue."
By Murphy Dental Group
November 10, 2018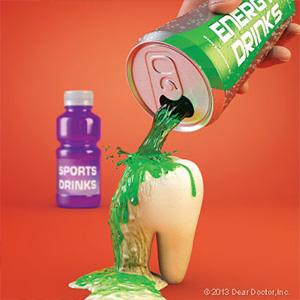 Although energy and sports drinks have different purposes, they have one thing in common: they often contain added citric and other acids to improve taste and prolong shelf life. Their high acid content can harm tooth enamel.
Although enamel is the strongest substance in the body, acid can dissolve its mineral content. And although saliva neutralizes acid after eating or drinking and helps restore lost minerals to the enamel, it may not be able to keep up if the mouth remains acidic for a prolonged period of time.
That could happen with both beverage types. While energy drinks have higher acid levels than sports drinks, both are high compared with other beverages.
A recent laboratory experiment studied the two beverages' effect on tooth enamel. The researchers submerged samples of enamel in six different beverage brands (three from each category) for fifteen minutes, and then in artificial saliva for two hours to simulate mouth conditions. They repeated this cycle four times a day for five days.
At the end of the experiment the enamel in the energy drinks lost on average 3.1 % of their structure, while the sports drink samples lost 1.5%. Although energy drinks appeared more destructive, the acid in both beverages caused enamel damage. Although there are other factors to consider in real life, the experiment results do raise concerns about both beverages' effect on dental health.
You can, however, minimize the potential harm to your enamel from energy or sports drinks. First, try other beverage choices lower in acid; water, for example, is a natural hydrator and neutral in pH. Try to only drink energy or sports beverages at mealtimes when your saliva is most active. And after drinking, rinse your mouth out with water to dilute any remaining acid.
And although it sounds counterintuitive, wait about an hour to brush your teeth after drinking one of these beverages. Your enamel can be in a softened state before saliva can re-mineralize it, so brushing earlier could remove tiny amounts of enamel minerals.
Taking these steps with energy or sports beverages could help you reduce the chances for enamel erosion. Doing so may help you avoid unnecessary damage to your teeth and overall dental health.
If you would like more information on the effect of sports and energy drinks on dental health, please contact us or schedule an appointment for a consultation. You can also learn more about this topic by reading the Dear Doctor magazine article "Think Before You Drink."