Posts for: May, 2014
By Murphy Dental Group
May 23, 2014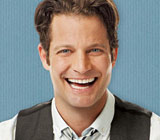 Design expert and television celebrity Nate Berkus has definite ideas about how to live. In a recent interview, he explained his ideas on design. He also talked about health, and how he keeps his teeth and mouth healthy.
From an initial design makeover that he did eight years ago on the Oprah Winfrey Show, Berkus has gone on to do 127 such makeovers. He was such a success that he now hosts his own daily talk show. He has also developed a line of home products for the Home Shopping Network and has his own design firm, Nate Berkus Associates. His clients include well-known restaurants and hotels as well as private homes. He has written articles for O Magazine and authored a book on the subject of transforming your home into a place you love.
"I realized many years ago that I wasn't going on Oprah to pick sofa colors and paint chips. I was there to lift people up through the way they live," he says. His secret to design success is to "go with what you love." He says, "Don't worry about mixing metals, eras or styles. If you love each item, you'll find a way to make it work."
His common sense practical attitude continues when it comes to dental health. Berkus is blessed with a healthy mouth and teeth. He doesn't feel anxious when visiting the dentist because he usually has a good report. He has not needed orthodontics or cosmetic dentistry. He thanks his childhood dentist for giving him fluoride treatments and sealants, and for teaching him healthy dental hygiene habits.
Berkus brushes his teeth twice or even three times a day, with a manual or electric toothbrush — depending on whether he is at home or traveling. He also follows his dentist's advice about flossing: "Floss the ones you want to keep!" He says that he tried tooth whitening once, but he felt that the whiteness was "too white." Now he simply works to maintain his natural tooth color and smile.
Contact us today to schedule an appointment to discuss your questions about maintaining healthy teeth. You can also learn more by reading the Dear Doctor magazine article "Nate Berkus, Helping Others Love the Way They Live."
By Murphy Dental Group
May 08, 2014
Your teeth have enemies — bacteria that feed on biofilm, a thin layer of food remnant known as plaque that sticks to your teeth, are one such example. After ingestion, these bacteria produce acid, which can erode your teeth's protective enamel and lead to tooth decay.
Fortunately, you have a weapon against enamel loss already at work in your mouth — saliva. Saliva neutralizes high levels of acid, as well as restores some of the enamel's mineral content lost when the mouth is too acidic (re-mineralization).
Unfortunately, saliva can be overwhelmed if your mouth is chronically acidic. Here's how you can help this powerful ally protect your enamel and stop tooth decay with better hygiene and eating habits:
Remove bacterial plaque daily. You should floss and brush with fluoride toothpaste everyday to remove plaque. It's also recommended that you visit us twice a year for professional cleanings to remove hard to reach plaque. We can also train you on how to properly floss and brush.
Wait an hour after eating to brush. It may sound counterintuitive, but brushing immediately after you eat can do more harm than good. The mouth is naturally acidic just after eating and some degree of enamel softening usually occurs. It takes a half hour or so for saliva to restore the mouth's pH balance and re-mineralize the enamel. If you brush before then, you may brush away some of the softened enamel.
Limit sweets to mealtimes. Constantly snacking on sweets (or sipping sodas, sports or energy drinks) will expose your teeth to a chronic high level of acid — and saliva can't keep up in neutralizing it. If you can't abstain from sugar, at least limit your consumption to mealtime. It's also a good habit to rinse out your mouth with clear water after drinking an acidic drink to flush out excess acid.
Boost saliva content with supplements. If you suffer from insufficient saliva production or dry mouth, try an artificial saliva supplement. Chewing xylitol gum can also help boost saliva production, as well as inhibit the growth of infection-causing bacteria. We'll be glad to advise you on the use of these products.
If you would like more information on protecting your teeth from tooth decay, please contact us or schedule an appointment for a consultation.